Easy Axle Jack for Caravans and Campers
The Couplemate Caravan Axle Jack lifts Round or Square Axles. Easy Jack safety lifts caravans or trailers to change a flat tyre or to check bearings.
Axle Jack fits the following tyres when flat
Tyre Size - Height - Rim Size
155 - 578mm - 13"
165 - 596mm - 13"
175 - 611mm - 13"
185 - 653mm - 14"
195 - 668mm -14"
195 - 673mm - 15"
205 - 668mm - 15"
215 - 683mm - 15"
225 - 697mm - 15"
185 - 684mm - 16"
195 - 696mm - 16"
Note: Not suitable for other-size tyres to fully lift when flat.
Easy Jack is one of the easiest ways to lift a wheel under your caravan or trailer to change a flat tyre or to check wheel bearings.
Download the Easy Jack Safety Instructions before use: Click Here to Download.
How to use Easy Jack
To use this new and creative Easy Jack from Couplemate, locate the under the C-section or axle.
Car Jacks are not suitable nor designed to raise your caravans entirely off the ground.
You no longer need to carry a heavy jack to lift your trailer high in the air to get your wheel off.
Take care on the rough or loose ground. Easy Jack will handle most surfaces except sand.
Easy Jack works on square or round axles.
Note: Does not operate on drop axles but very handy to raise, check and replace bearings.
Tip: Before you install your caravan jack, loosen your wheel nut a little with the wheel on the ground. Once lifted, replace the old rim and don't forget to re-tighten your wheel nuts after lowering the axle to the ground.
Standard Caravan Jack releases the weight from the springs causing the caravan to be lifted higher than usual. Easy Jack does not release spring tension. (Be sure to have a friend watch the trailer axle from a safe distance as you do so).
Easy Jack is rated of up to 1,000kg per wheel and made from durable Cast Aluminium; the new Couplemate Easy Jack is sure to make your roadside tyre change quicker and easier! (Note: rating is on one wheel. Vehicle Identification Placard (VIN) weight should be lower than 2,000kg). Suits 14-inch to 16-inch Wheels.
Easy Jack suits a maximum axle height of 340mm, with allowance for another 10mm for the wheel to be removed and replaced. TIP: Place a block of wood approx 29cm in front of your tyre to ensure no over-travel.
This truck jack evidences Another example of lifting technology.
Always ask for Genuine Couplemate products and get our lifetime guarantee when used according to manufacturers' specifications.
Tested and Approved to AS/NZS 2693:2007 Caravan Jacks.
750 kg vertical static load test.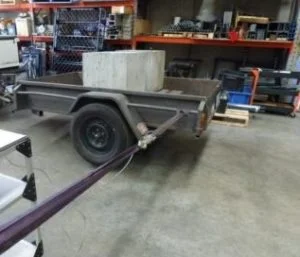 The above photo shows the horizontal load test for easy Jack. Notice the cement load in the trailer.
Why do I need a Caravan Axle Jack?
ACCC reports 29 car jack-related deaths between 2000 - 2007 that were notified to the Australian coroner. All deaths were men in the age range 31-80 and related a raised caravan.
Deaths
Of the 29 car jack deaths between 2000 - 2007, the highest medical cause of death was Asphyxia, common mechanisms of death were blunt force and threats to breathing. There were two ramp deaths.
Injury Data
There are 320 Emergency Department (ED) presentations to Victorian Hospitals for vehicle jack (caravan) related injuries for the period 2000 - 2007.
Of this, 10.3 % were admitted to a hospital, and 89.4% were treated and discharged.
Of the injured persons, 302  were male, and 17 were female.
Most external injuries 191 were caused by the person being struck by collision by an object.
Common types of injuries were open wounds 22.2%, fractures 20%, sprain/strain 15.6%, crushing 15.6% were the highest %.
Just over one-third of all injuries were to the hand 35.3%. Other body sites injured were foot 9.7%, face 7.5%, thorax 6.6%, head 5.9% and shoulder 5.6%
Most injuries occurred at home 52.5%, trade or service area 15.9% and road, street or highway 11.3%
Data Source
The trailer guide is one of our original products, others can be found below
Additional information
| | |
| --- | --- |
| Weight | 2 kg |
| Dimensions | 8 × 30 × 50 cm |