Caravan Wheel Nut Indicator
Caravan wheel nut indicators provide clear evidence of loose wheel nuts
How to Measure Wheel Nuts - Ford is 21mm (right-hand side image)
Wheel nut indicators quickly identify nuts that have become loose on their studs during transit. Indicators clearly identify nuts that have loosened out of alignment.
Indicators are essential caravanning equipment because wheel nuts work loose on rough roads and require checking every morning.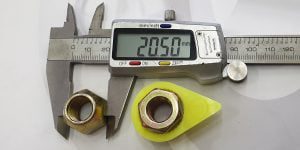 Other uses for nut indicators include
Vibratory Conveyors.
Feeders.
Vibratory & Rotary Shakeouts.
Screening Solutions for Mining & Aggregate.
Grinding and Attrition Machinery.
Underground Mining Machinery.
Driving caravans and campers over rough roads mandates maintenance checks every morning before the day's adventures commence.
Did you know that wheel studs are high tensile steel and precision equipment?
The knurl is important; otherwise, wheel studs spin during tightening.
Furthermore, wheel studs cannot be welded.
Once the wheel stud has commenced spinning, the hole has been oversized.
The drum now requires replacement. It is not to insert new wheel studs into old stud holes.
If a replacement is necessary, then we recommend a drop of red locktite.
Specifications and Sizes
3/8" indicators fit nuts that measure 3/8" across the flats with a vernier caliper.
7/16" Suit all Holden and 4 stud hubs - 19mm across the flat edge of the nut.
High-density polypropylene is used in the manufacture of nut indicators.
Severed Wheel Nuts
Severed wheels studs are not caused by faulty manufacture or bad driving style.
When rough roads loosen wheel nuts, the wheel rim acts as a hammer on the high tensile studs, causing them to break.
It is common for wheel nuts to work their way loose and require tightening immediately.
A simple remedy is to check the nuts every morning or, better still, insert wheel indicator tags for increased safety.
These tags quickly identify even a slight loosening of the wheel nuts.
Once the identification process is made, the simple remedy is to tighten the loose nuts.
Wheel tag indicators provide an easy visual inspection method to ensure fleet safety.
How to install wheel nut indicators
Insert the tab over the nut, ensuring the pointed tab is touching the right-hand side against the hub.
A loosened nut will move the tab in an anti-clockwise direction.
Re-tighten the wheel nut immediately and replace the tab in the correct position.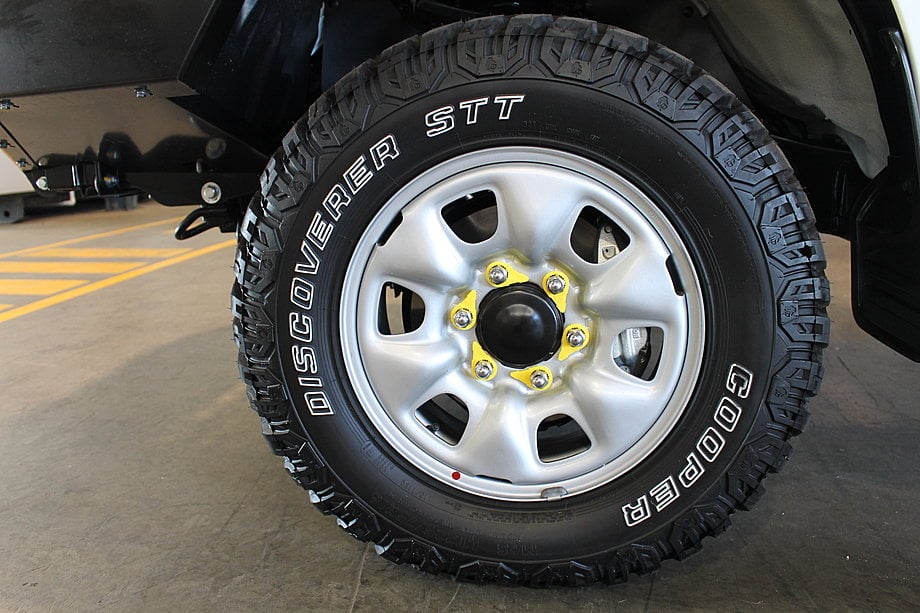 Additional information
| | |
| --- | --- |
| Weight | 0.2 kg |
| Dimensions | 4 × 6 × 6 cm |
| Title | 21mm Hex, 19mm Hex, 17mm Hex |