12 Pin LED Plug or Socket
12 Pin LED Plug or Socket for Trailers and Caravans with stainless steel terminals for Auxiliaries. In addition, Led's are located under the cover on the right and the left side of the Pins.
Why are Trailer Vision 12 pin plugs better than the more popular brands?
Simple, the stainless screws and ferrules used in this product are superior to brass ferrules and screws. Brass screws break easily when screwed in hard for a good connection.
A good tip is to spray corroded terminals with WD40. As a result, connections come back to life and become electrically conductive again.
However, this fix is short-lived and only provides a temporary solution. Consequently, the best answer is to buy a quality set of trailer LED plugs and sockets.
12 pin LED connectors provide evidence of electrical conductivity, at a glance. As a result, this visual check makes caravanning easy.
Problems associated with trailer plugs
Corrosion of terminals
Water ingress
Dirt ingress
Cable separation from terminals
Furthermore, the greatest cause of caravan plugs and socket connection problems is unsoldered and ineffective connections at the plug terminal and at the trailer lights. The simple solution is to twist the cable ends, solder the copper tips then insert into the plug ferrules and tighten.
Generally, pin connectors are brass or poor quality brass alloy. So, Trailer Vision invented LED connectors with stainless steel screws in their terminals in an effort to combat poor connections.
12 Pin Caravan Plug and Socket Specifications
Pins  8 ,9, 10, 11, 12  current rating  35 amp Wire  Size  5 mm
Pins 1,2,3,4,5,6,7 current rating 15 Amps Wire  Size  4 mm
Chrome  Plated  Brass Pins with Stainless Steel Screws
Spring-Loaded  Front Cover with a clip to hold open separator to insulate between Trailer Circuits and AUX Battery Circuit
Weather Resistance Rear Cable Entry Seals  with Gripping Device for Holding Cable
As a result, bad connections are usually comprised of oxidised terminals or weak linkage. Therefore, to eliminate bad connections, Couplemate recommends soldering the ends of each cable end before insertion into the ferrule.
Trailer Vision has produced a combination of stainless steel pin screws with plated brass terminals to help prevent breakage and ensure tight contact between socket and plug. For instance:
Pin 8 has a RED LED that indicates a breakaway charging circuit.
Pin 5 has a BLUE LED that monitors the breakaway battery circuit
Disconnect the trailer plug from the vehicle.
Pull out the pin in the breakaway switch to activate the electric braking system.
The BLUE flashing LED in the trailer plug must flash to indicate a breakaway battery energy source.
The amber light on the breakaway battery indicates batteries charging status.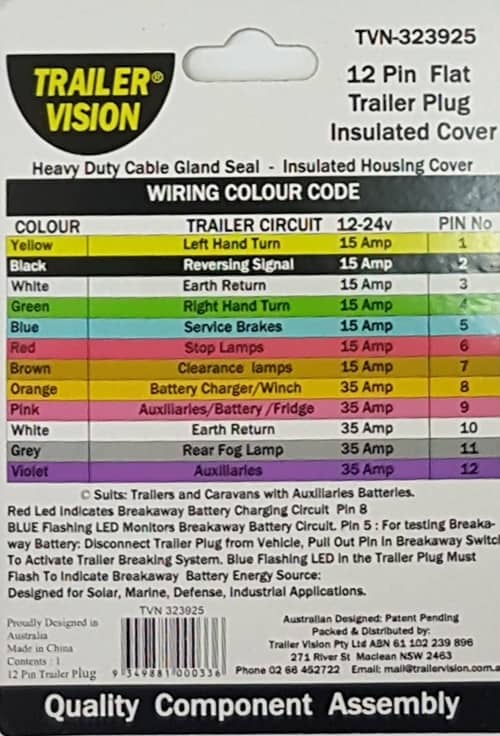 Additional information
| | |
| --- | --- |
| Weight | 0.4 kg |
| Dimensions | 5 × 13 × 17 cm |
| Select Plug or Socket | Trailer Plug, Vehicle Socket |