4WD Swing Away Rear Spare Wheel Carrier Bracket
Swing away rear hub 4WD spare wheel carrier bracket is ideal for carrying spare tyres, a jerry can holder or a lift jack.
Product Specifications
Couplemate™ manufactures Swing Away Hubs from K1040, which is a high-grade Australian steel. This is the same grade of steel used for stub axles, as seen in the 4WD Swing Away Rear Kits, as this ensures a sturdy and quality product.
The clearance between the hub and stub is 0.02mm and requires greasing before insertion. It is also necessary to thoroughly clean the wheel or tyre carries before welding and powder coating.
The kits contain NSK-branded inner and outer bearings cones, our Australian-made dust Caps, and seals.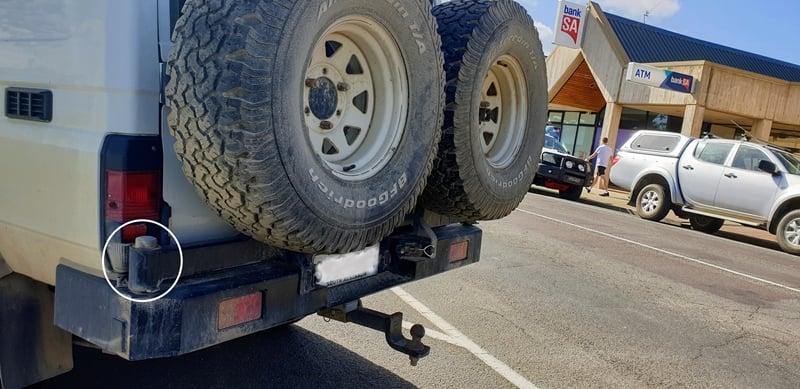 Image 1. The circled area is an example of a swingaway used as a Spare Wheel Carrier. 
Weight & Load Ratings
The loading rate depends on the length of swing-away you intend to use. The longer the arm, the more loading on the bearings.
In this application, there is no requirement for high-speed bearings. We decided to manufacture a more robust spare wheel carrier. Tapered roller bearings are commonly used on trailer and caravan axles and can handle a variety of awkward weights (such as spare wheels, jerry cans, trailer lifts, etc).
Couplemate™ recommends using a 45mm Slimline or 45mm Parallel model due to the added load caused by the fulcrum effect on the rear bar. LM/Holden should be reserved for light loads, as these smaller assemblies stress and break under extreme loads.
The 4WD swing-away spare wheel carrier may need to be replaced if the weight exceeds the bearing limitations. This results in assembly collapse, and if such, replace it with the non-bearing type carrier.
---
Inner ID 31.75mm, OD 59.10mm
Outer ID 19.05mm, OD 45.20mm
Seal ID 37.5mm, OD 59.10mm
Grease Cap 45.20mm
55mm OD HUB KIT
Inner ID 35.00mm, OD 59.10mm
Outer ID 22.00mm, OD 45.20mm
Seal ID 43.9mm, OD 59.10mm
Grease Cap 45.20mm
55mm OD HUB KIT
Inner ID 35.00mm, OD 59.10mm
Outer ID 35.00mm, OD 59.10mm
Seal ID 43.9mm, OD 59.10mm
Grease Cap 63.00mm
Inner ID 35.00mm, OD 59.10mm
Outer ID 22.00mm, OD 45.20mm
Seal ID 43.9mm, OD 59.10mm
Grease Cap 45.20mm
55mm OD HUB KIT
45mm Square Stud Axle Parallel Bearings
Inner ID 35.00mm, OD 59.10mm
Outer ID 35.00mm, OD 59.10mm
Seal ID 43.9mm, OD 59.10mm
Grease Cap 63.00mm
Inner ID 35.00mm, OD 59.10mm
Outer ID 22.00mm, OD 45.20mm
Seal ID 43.9mm, OD 59.10mm
Grease Cap 45.20mm
55mm OD Hub Kit
Additional information
| | |
| --- | --- |
| Weight | 7 kg |
| Dimensions | 28 × 26 × 8 cm |
| Title | 50mm SQ Stub, 45mm SQ Stub, 45mm RND Stub, 40mm SQ Stub, 39mm RND Stub |